Links:

Gallery

Sketch Account

Commission Info

Keychain Sale Info

Button Sale info

Livestream

Off-site:
Tumblr
||
Formspring
||
Pixiv
_ _ _ _ _ _______________________________________ _ _ _ _ _
UPDATE:


Hello everyone! In less than two weeks i'm going to be moving into my new apartment in Northern California. Right after that, school will be starting again. As such, this will be the last time i'll be able to send out orders before i move. I probably won't open sales again for another couple months (probably after yaoi-con)
If you'd like to purchase my merch, buy it now before it's too late! >:Y

_______________________________________

Keychains

Please refer to my updated Keychain journal for the full details + sample photos:
[link]
Since i recently purchased a laminating machine, i can make keychains on demand. So no more worrying about keychains being out of stock XD Just give me the names of the characters that you want to purchase and i'll be able to make them.

You can choose between ball-and-chain or cellphone strap.
Each cellphone strap comes with a small bell

Pricing
$3.00 EACH
2 for $5.00
3 for $7.00
4 for $10.00
5 for $12.00
Five is the highest discount price. If you want more, add $3 for each extra you buy, or combine discount prices.
If you just want to buy keychains only, please use the order form in my keychain journal
_______________________________________

Buttons/Pins

My buttons are fairly new since AX was the first time i ever sold them. I made a new separate journal just for my buttons:
[link]

Pricing
$2.00 EACH
2 for $3.00
4 for $6.00
Special: Oofuri set (all 10 members) = $10.00
If you just want to buy buttons only, please use the order form in my button journal
_______________________________________

Prints

My prints come in four different sizes: 11in x 17in large poster, 11in x 14in medium poster, 8in x 12in prints, and 4in x 6in mini postcard prints.
Here's a hopefully useful size comparison photo: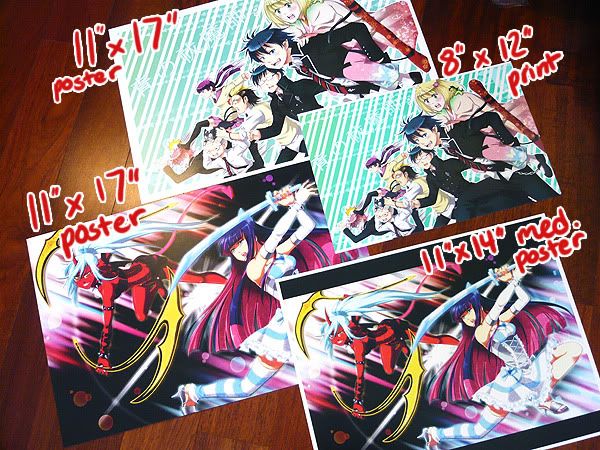 11in x17in posters:

11in x14in medium posters:

8in x 12in prints:

4in x 6in postcard prints:
omg that is a shit ton of prints OTL

Pricing
11x17 posters: $10 each; 2 for $16
11x14 posters: $8 each; 2 for $14
8x12 prints: $5 each
4x6 postcard: $2 each
_______________________________________

Payment

I accept both
Paypal
and mailed
money orders.
Please make sure that your payment is in US dollars ONLY. Also, i prefer paypal since it's quicker.

Shipping
Everything will be shipped with USPS first class mail. Shipping will be a bit different depending on what you want to buy: keychains and pins will be sent in envelopes, smaller prints will be sent in large envelopes, and posters will be sent in tubes
Keychains and/or pins:
USA: $2
Canada: $3
Poster prints:
USA: $3-$5
Canada: $4-$6

How to Order:

(Please use this form if you want to buy prints or any combination of keychains, buttons, and prints.)
> Send me a note with the subject labeled as "AX sale"
> If you're not a DA user, please send me an email at
lowahjun@gmail.com
> Please provide the following info:

Name(or username):
Shipping address:
Payment Method: (paypal or money order)
Items:
-Keychains: (if any)(if you order keychains, please specify which type)
-Buttons: (if any)
-Prints: (if any)
Total cost:
> Depending on what you order, i'll determine your shipping cost. Then I will reply with either my paypal address or my mailing address depending on which payment method you chose.
**Please attach a note along with your payment stating who you are from DA.**
> I'll contact you either through email or DA note when i sent out your items. =]
> You don't have to do this, but once you receive the items, please tell me. I want to make sure they get to their rightful places.
> I'm going to try the slot system this time. Each category of items have their own slots. So if you're buying just keychains, or just buttons, your slot will be placed in those journals. Any larger orders will be placed here

Slots

1.
2.
3.
4.
5.
Waiting List
1.
2.
3.
If you have any questions, please comment here and i'll try to get to you as quickly as possible. Thanks for stopping by!!