Why am I writing a journal in the middle of the night? ...I feel like i'll be too busy tomorrow to write this... ;n;
I just wanted to thank everyone for the awesome birthday wishes and the llama badges! >w< I feel really... honored for receiving these wishes. ;v;

HAVE SOME VIRTUAL CUPCAKES I MADE!!!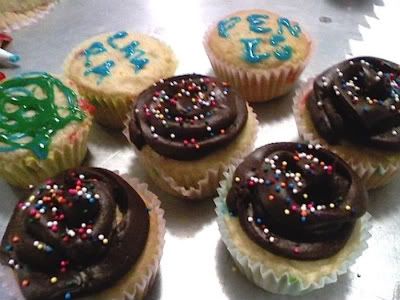 yes that cupcake says penis. That was my friend's fault ;D
Sadly my birthday was a very busy day filled with school work...(and making cupcakes) But all the birthday wishes definitely cheered me up! >v<
Thank you so much everyone!
---------------------
AND NOW I SPAM THE WONDERFUL THINGS THESE WONDERFUL PEOPLE DREW FOR ME Q3Q
:thumb182278953:


Thank you so much!


I don't deserve such kindness... ;A;
---------------------
And yeah, i shall continue my hiatus (yeah i seriously am on one 8U) I haven't been coloring lately, mostly only doodling which i would gladly post and all! But there are just so many things to do. Midterms are also coming up in a couple weeks so i'll be trying to work my ass off. ;A; If you do see me lurking around, PLEASE kick my ass and tell me to GO TO WORK. I'll try my best to work as hard as i can. ;v;/
I'm really sorry to the people who commissioned me or waiting for me to accept their commissions. It looks like i'll busy for quite some time. D; I sincerely apologize...
Thanks for reading! I'll be off again!